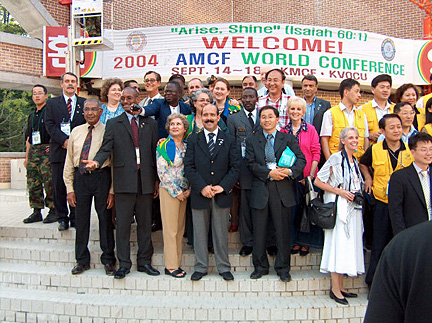 Dear Friends and Family:
This is Jan reporting . . .
It was only hours ago that I stepped off a plane from a most incredible journey!!!! I went around to the back side of the world----just the Lord and I! It was to attend the 10-year Military Christian Fellowship Conference, held in Seoul, Korea! Yep, I went it alone since Dave just days before, had injured his back which showed up in his MRI and x-rays as a bulged disc and caused him to have a floppy right foot so two doctors said "No travelling." It was a HUGE disappointment for both of us and we wondered (and still are) what God's purpose was in allowing that to happen, but we are trusting in His judgement and are rejoicing still in what WAS accomplished. I was all geared up to have a booth in the exhibition area which turned out to be AWESOME. I do not have the words to express the profound impact that this whole venture/experience had on me. I met some of the world's top military brass, even had lunch with a General from Iraq who at one time was Sadam Hussein's personal body guard. He said Sadam chose him because he was a Christian and he knew that he wouldn't double-cross him or have him killed. I also met a General from Iran who was very cautious about what he said because of the political situation there. Pictures that I took of these gentlemen are not to be published for obvious reasons. I also met countless men and women who I hope to see again in their own countries to do a ministry among them.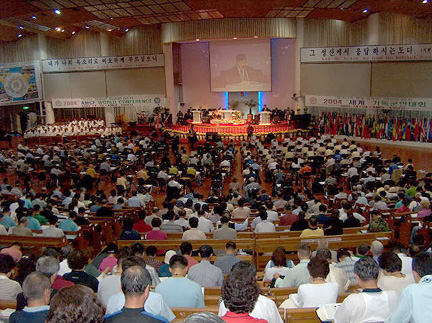 There were more than 1800 military personnel registered from 142 countries around the world. What a glorious sight to see all standing with hands lifted, praising God so earnestly and with their whole hearts. These men have seen and been through a lot---wars and rumors of wars, fighting the very nations represented by those seated next to them, but TOGETHER they openly and unabasedly praised the Lord! Tears flowed in each service as I heard testimonies of how God brought these men to a saving knowledge of Jesus Christ and what they are doing with their testimonies and their new lives in Christ in their own country's armed forces.
My exhibition in a booth at the conference was such a wonderful contact and tool to explain to the delegates from the nations just what I propose to do to encourage the women in the military milieu. Many of you know that I have had a tea party ministry for years in several nations where we have lived and so I feel that God was preparing me for this point in time. Military women soldiers and wives of soldiers world-wide are the forgotten ones, never having much of a program to meet their needs as women. My desire is to reach out, touch, love on and teach those women. I have the tools (like teapots and teacups) and ministry helps (like fancy small boxes for scripture verses), experience, and my BIBLE! (Speaking of my Bible, it was taken from under my booth table at the conference on the first night----I decided God had someone else who needed my English edition and all my precious notes more than I did----and that He is putting me on a new path to look to the future and forget the past with the underlined verses that I so treasured from past trials and frustrations. Isn't God marvelous, compassionate and knows what is SO RIGHT for us???!!!)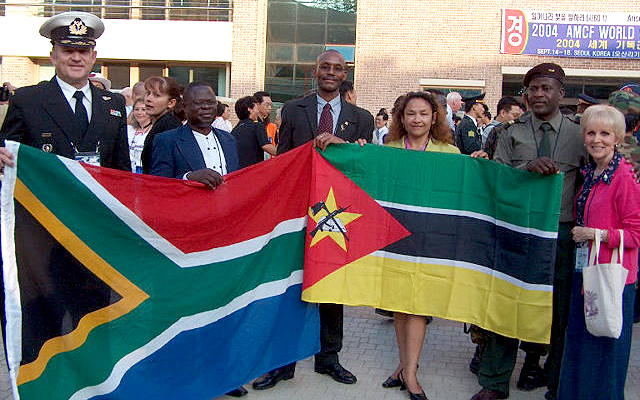 Dave and I have been asked by our mission to accept this position of working with FOREIGN ARMED FORCES around the world. It is a ministry that has been on Dave's heart for 17 years since he filmed a military parade in Togo, West Africa back in about l987. For years we were admonished not to get involved with foreign militaries as it was "too dangerous and too political". Now we are in it FULL-TIME! We are so excited about how God is going to use us and where He is going to send us!
So now we are back to the basics, waiting for our permanent visa to Spain so we can rent a house, buy a car, then go to Mozambique to pack up. We are basking in God's unbelievable, supreme knowledge of how to orchestrate our lives! There is no better place to be than in the very hallow of His mighty, loving, outstretched hand AND KNOW IT!. Never have I been so excited about what God is doing! We feel we are on the verge of seeing the promise in Hab. l:5 come to fruition: "Behold ye among the heathen, and regard, and wonder marvellously: FOR I WILL DO A WORK IN YOUR DAY, WHICH YOU WILL NOT BELIEVE, THO IT BE TOLD YOU." So be it, Lord! Bring it on!
In His very grip,
Jan Hall